Memory unfold
21 augusti - 17 oktober 2021
– ett retrospektivt urval från 90-talet fram till idag
Maria Miesenberger gestaltar genom ett konceptuellt baserat fotografi, tredimensionella gestaltningar och skulpturer frågeställningar kring det personliga, det gemensamma, människans livsvillkor och tillvarons ofrånkomliga paradoxer. Hennes konst kännetecknas av en fortgående undersökning av hur identitet skapas, påverkas och omformas. I många av sina verk uppehåller hon sig vid och problematiserar minnet av barnet och barndomen, som ett gestaltat subjekt. MM's arbeten använder den mänskliga kroppen som avtryck och utgångspunkt för berättelser om existens och identitet. Barndomens och ungdomens närvaro i MM´s arbeten är både symbolisk och realistisk. Hennes personlig relation till sina modeller, ett släktskap eller en vänskap, ger en djup identifikation med innehållet i dessa berättelser. Effekten av något välkänt, närvaron av en omsorg, skänker ett lugn och en styrka åt hennes mångtydiga arbeten.
MM är alltid fysiskt närvarande i hantverket och medverkar i varje steg av tillverkningen i utförandet av sina verk. Hon väljer material efter idé och rör sig fritt mellan så skilda uttryck som fotografi, metall, glas och textil. Tekniker som alla underkastas tanken och idén. I processen smälts material samman till ett verk där form, tanke och innehåll blir ett, omöjliga att separera.
MMs projekt Sverige/Schweden är för evigt inskrivet i den svenska fotohistorien. Sverige/Schweden är ett arbete som berättar om flera generationers minnen och levnadsvillkor, om hur uppkomsten och upplevelsen av trauman i kriget och Förintelsens skugga ledde till en invandring till Sverige och om hur denna skugga präglat en identitet, en barndom och en familjs historia. Denna underliggande klangbotten, detta perspektiv, färgar av sig och löper som en innehållslig röd tråd genom alla MM´s arbeten. MM låter i sina verk den personliga erfarenhet bli till en allmängiltig berättelse om den mänskliga erfarenheten av relationer, frånvaro, närvaro, drömmar och minnen.
Mattan MEMORY UNFOLD (CROSSING OVER), 2019
Utställningens huvudnummer är den magnifika gråskalemattan utförd i samarbete med Märta Måås-Fjätterström AB i Båstad. Mattan är vävd i Båstad av Petra Elström i rölakan med inslag av flossa i relief. Ull på ullvarp med nät och fransar i ullvarp, måttet är 330x300x5 cm. Utöver detta visar Maria skulpturer i olika material såsom textil, aluminium, brons, stål och glas, samt foton från 90-talet fram till nutid.
Se utställningen i 3D
Med empatin som ledstjerna
Med ett generöst och delvis retrospektivt urval av verk från sina tre decennier som konstnär avslutar Maria Miesenberger sommarsäsongen på Konsthallen Hishult. Hela Konsthallen inklusive Orangeriet har tagits i besittning. Här möter i väl genomtänkta grupperingar brons- och stålskulpturer, foton, skulpturer gjutna i uranglas, jugendinspirerat patchwork och textila konstverk i form av poetiska objekt som leder tankarna till sällsamma maneter och bläckfiskar i tropiska vatten.
Som en solitär på en vitmålad vägg i själva konsthallen hänger utställningens nav och huvudverk, den hjärnformade mattan Memory Unfold (Crossing Over). Det mer än tre gånger tre meter stora verket – utfört i röllakanteknik med inslag av flossa vid Märta MååsFjätterströms verkstad i Båstad – har också lånat sitt namn till hela utställningen. Mattan illustrerar minnen som blottats och vikts ut.
Den, liksom resten av utställningen, handlar om hudlös sårbarhet. Om utsatthet. Men även om hopp, tillit och förtröstan vilket också – bland annat – illustreras i fotoserien Self-portrait (Uncut I-VI) som visas i Orangeriet. I porträttsviten utlämnar Maria sin egen blottade hals – en klassisk gest av underkastelse men också ett tecken på tillit; på styrkan i att tillåta sig att visa sin svaghet.
Men åter till mattan som jag uppfattar som en nyckel till och sammanfattning av hela Maria Miesenbergers konstnärskap. En matta av utvikta minnen, uppbyggd som ett pussel av rektanglar i en färgskala som löper från mörkaste grått (där sammansättningen av rektanglarna leder tankarna till hakkors) till varmt vitt – allt omsorgsfullt nyanserat och med anande inslag av blekt rosa trådar. Mattan ljusnar mot mitten men över mittpartiet ligger ett nät, ett stängsel, vävt i flossateknik i metallgrå nyanser. Mattan är förvisso ett konstverk. Ett förföriskt vackert sådant. Men den rymmer också en mindre förförisk berättelse. En berättelse som handlar om den tyska ockupationen av Österrike (där Maria, på sin fars sida, har sina rötter) under Andra Världskriget; om hur hon som sexåring tillsammans med sin far besökte det till museum omvandlade, illa beryktade koncentrationslägret i Mauthausen som under kriget låg
praktiskt taget granne med familjens hem. Det fadern berättade, det hon såg och förstod åt sig in under huden på henne. Outhärdligt och oförglömligt gav det näring åt den empati som genomsyrar hela hennes konstnärskap, likgiltigt vilket medium hon använder.
En första glimt av denna empati möter redan i Förstugan. Dels i form av ett par högblankpolerade nallebjörnar i stål (Reflection on the Presence of Time), som ställda på huvudet blickar mot besökarna. Ett par så'na där go'a koalor, som egentligen inte är några björnar, men som ändå skänkt tröst åt otaliga ungar. Dels, och framför allt, i en handfull svartvita fotografier. Maria kallar dem "självporträtt"
även om modellen är hennes syster. Systern ser ledsen ut och de vita händerna ("andehänder", synliggjorda i mörkrummets hantverk) som rör vid hennes ansikte är Marias egna som smeker för att trösta. Fotografierna är med andra ord kanske inte självporträtt men väl självbiografiska och återspeglar hennes känsloladdade förhållande inte bara till systern utan till omvärlden i stort.
Vid sidan av empatin ryms också spår av dualism i Maria Miesenbergers konstnärskap. Mot skönheten i mattan står grymheten i de minnen den förmedlar. På nästan samma sätt förhåller det sig med en torso som i form av en kavitet gjutits in i ett block av uranglas – ett magiskt glas som skiftar i olika gyllene toner i takt med ljusets växlingar. Torson har en hud som är alldeles bubblig. Tveeggat bubblig som den vore en återspegling av månens yta med kratrar och bergsformationer – eller – som att torson vore en kropp i upplösning, kanske en kropp drabbad av pest eller spetälska. Men också här driver verkets skönhet de negativa associationerna på flykten. I duellen mellan ont och gott avgår det goda, det ljusa, det vackra som segrare. I mattan tränger ljuset igenom det fiktiva stängslets galler.
Inne i Konsthallen hoppar, i trefaldigad upplaga, en bronsfigur bock över en hög piedestal. Lätt som en fjäder och sorglöst lycklig. Älskad, bejakande livet. Oskadad, skyddad av en alldeles slät och len hud. Modellen för verket är Marias son när han var sex år gammal. I kontrast till honom kurar barn ihop sig under en bänk som de samtidigt bär på sin rygg. Barnens hud är alldeles veckig. "Som
en solfjäder" säger Maria. Bänken Unfold (Hidden/Hide) ingår i den gestaltning av Parken till minne av Jönköpingskvinnan Ebba Ramsay (1828-1922) som Maria har utfört på bostadsområdet Strandängen i Jönköping 2018/2019. Ebba Ramsay tog sig an av familj och samhälle utstötta barn (barn med psykiska och fysiska funktionsnedsättningar, barn med epilepsi) och gav dem ett hem och ett liv; gav dem möjligheten att från att ha varit ett förbisett ingenting kunna utvecklas och slå ut som solfjäder. På ben som inte bär tar ett annat "solfjäderbarn", Unfold (Rising Up), stöd av armarna och reser sig vid ett bord. Åter en duell där de positiva krafterna segrar. Detsamma gäller hennes tidiga skulpturer av androgyna, hudlöst utlämnade ungdomar. Till att börja med rätt skygga och rädda som gestalterna i den välkända gruppen "Hide and Seek" (ej med på utställningen) – efterhand, likt figuren Stilla rörelse/Standing Motion
som i Orangeriet klättrar uppför en pelare, allt djärvare.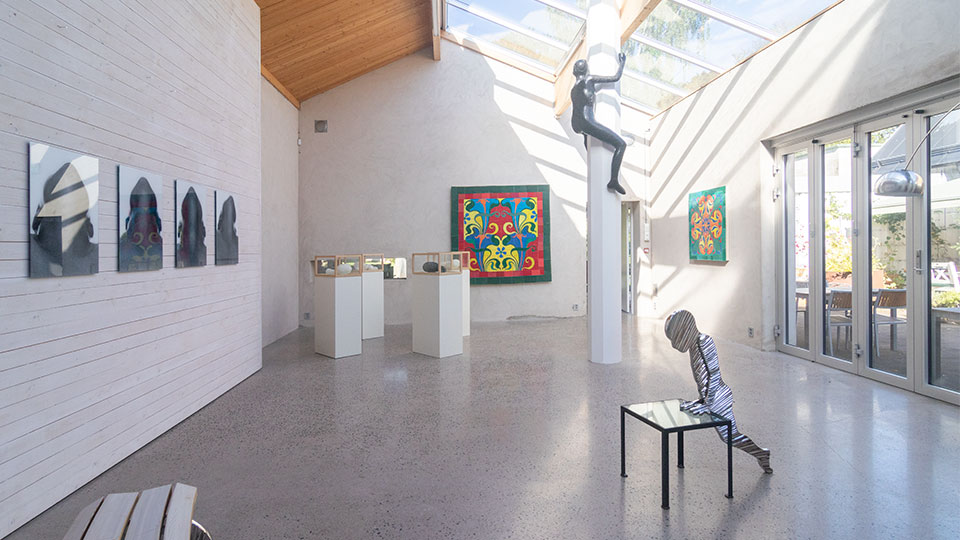 Till minnena som vecklas ut på utställningen hör också bilder ur den prisbelönade fotoboken Sverige/Schweden (1995-2000) där gestalterna omvandlats till svarta siluetter som tonar fram i "disiga" landskap. De återfinns i Vita rummet samt på Plan 2. I orangeriet möter, förutom ovan nämnda klättrande figur också minnen från Marias tidiga textila verk (2005). På väggarna hänger bland annat fyra patchworks, Framed Scouing Pads, i olika storlekar. Komponerade av färgglada skrubbsvampar(!) är de tillägnade förra sekelskiftets österrikiska jugendkonst och dess stiliserade växtornamentik. Tuffa och oömma skiljer de sig från "Femlingarna" – textila objekt från 2007-2008 – där barnstrumpbyxor, olika fyllnadsmaterial, pärlor och olikfärgade silkestrådar uppgår i odelbara, fantasieggande och till synes ömtåliga enheter. Självklart ligger de skyddade i vackra kuvöser/montrar av glas. Empatin är ständigt närvarande.
Bildgalleri